The Georgetown Cup 2012
sponsored by Thomsons Cycles
in aid of Accord Hospice
160 riders - 33 Flying Scots on display - 8 racing Flying Scots - Novelty and Classic Bikes - the most famous rhubarb pie in Scotland - it can only be
Georgetown Cup Day!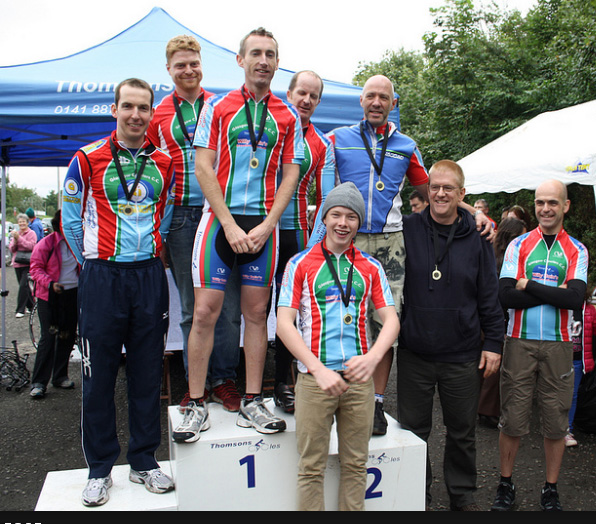 Georgetown Cup Winners 2012 - Glasgow Couriers CC
2:17:08
Richie Provan 0:16:34
Paul Friel 0:16:37
John Craig 0:16:45
Andrew McGhee 0:17:03
Jack Carlin 0:17:13
Matt Evans 0:17:15
John Fox 0:17:42
Geoff Smith 0:17:59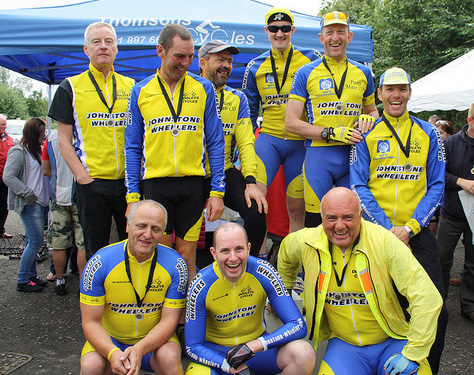 Silver - Johnstone Wheelers
2:18:51
Ramsay Muirhead 0:16:26
Philip Malcolm 0:16:42
David Thomson 0:17:04
Mike Ferguson 0:17:25
Greg Balden 0:17:45
Iain Cowden 0:17:19
Iain Couttie 0:18:03
Ian McGinty 0:18:07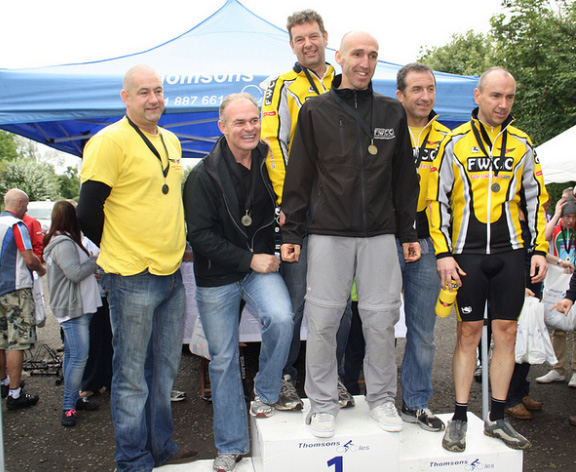 Bronze -Fullarton Wheelers
2:19:06
Brian Loy 0:15:54
Chris Staples 0:15:58
James Ryland 0:16:25
Gordon Stead 0:16:26
Ian Hackeny 0:17:22
Alan McCall 0:18:07
Richard Sykes 0:18:44
David Kean 0:20:10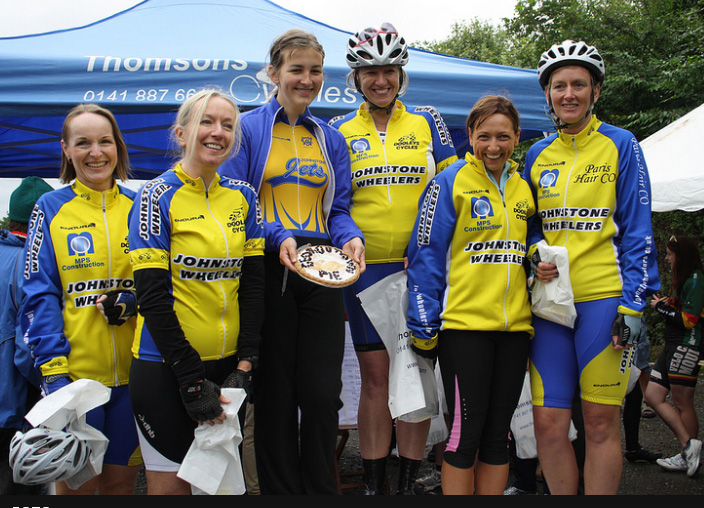 The Georgetown Pie - Johnstone Sheilas
2:52:13
Katrina Hamilton 0:18:24
Sarah Bradford 0:20:36
Louise McDonald 0:21:08
Alana Steele 0:21:47
Carol Cowan 0:22:07
Mary Ashworth 0:22:30
Elaine Sandison 0:22:30
Kay Tennant 0:23:11
Sorry that the Georgetown Pie wasn't quite the cake decorating triumph that it was last year but as Linda and I were putting the finishing touches to the start sheet at 10pm we heard a noise from outside and rushed out to find our dog Roxy chomping down on the Georgetown Pie in the middle of the back grass ! So after a mercy dash to Morrisons, a quick once over with icing sugar and 5 minutes with the raisins we ended up with what Eddie Nelson descriped as " a right ugly looking pie" - Rumour has it that one of the lovely Johnstone Sheilas is a dab hand at the old pie making and has offered to do us a splendid rhubarb extravaganza for next year.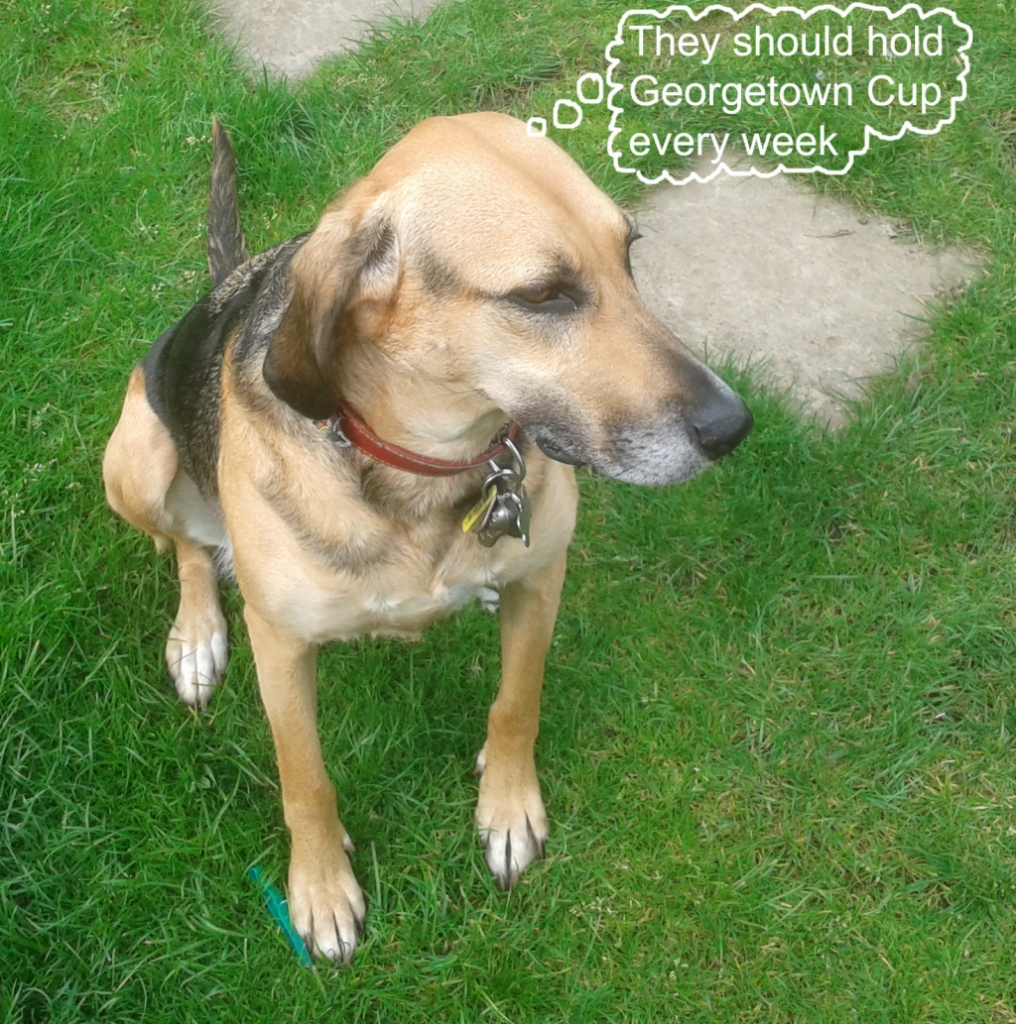 Naughty dog Roxy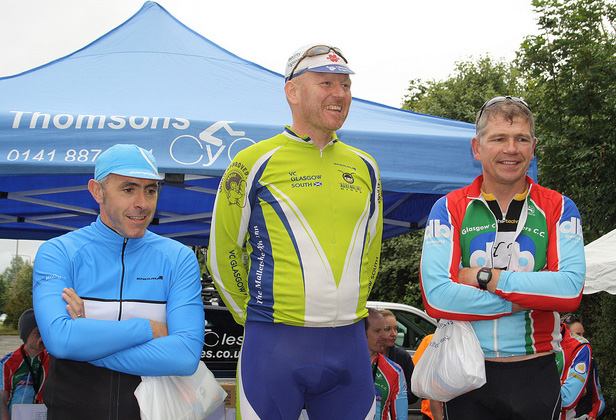 The Flying Scots
1st Martin Wilson 17:14
2nd Jim Cusick 17.46
3rd Russell Mowatt 19.26
Graeme Brown 19.34
Simon Haslam 20.30
Eddie Nelson 20.36
Andrew McLeod 21.04
Colin Edgar 21.39
Fergus Brown 21.39
Ted Mullen 23.38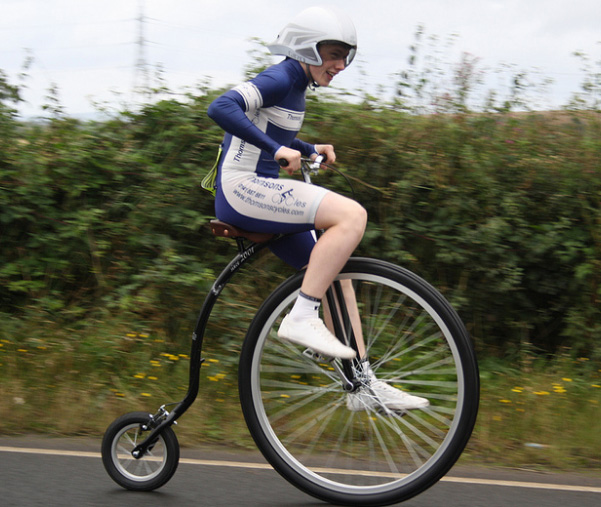 Jack Carlin on the Penny Farthing - 00:28:45
Jack was 5th fastest member of the winning Glasgow Couriers team on his normal bike then rode over the course again on the penny farthing
- you can do things like that when you are 15!!!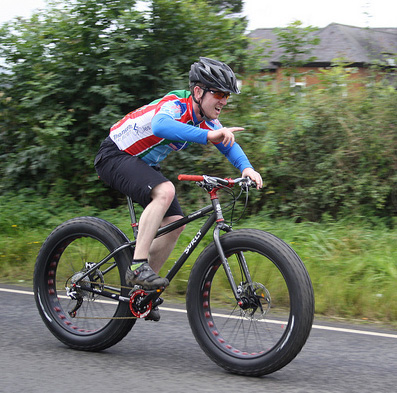 Martin Johnston on the FAT bike - 00:23:43
Marty is shop manager at Thomsons Cycles and gave a few people a run for their money on the FAT bike.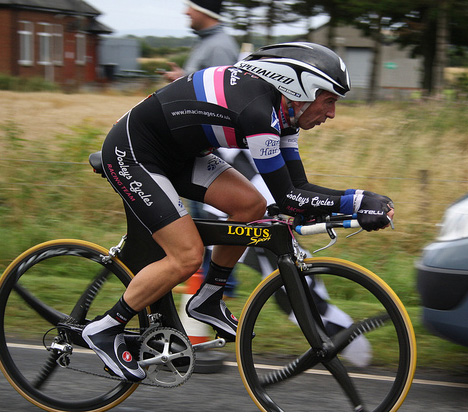 Davie Gibson on the Lotus 00:15:35
A Scottish Time Trialling legend on a modern classic -Its 20 years since Chris Boardman won Gold at Barcelona Olympics on the Lotus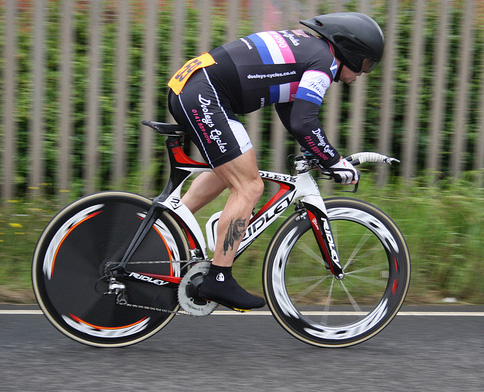 Tam Gordon 00:15:01
Tam is a member of the very exclusive "14 minute GT Club" and his Davy Crocket hat is a welcome addition to any Georgetown Cup Day.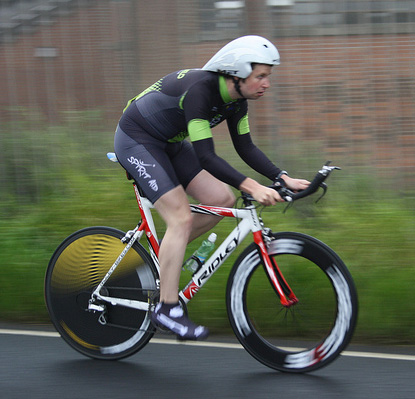 Stevie Blom 00:16:13
Blom is another proud member of the "14 minute GT Club" and is a man who really loves his Georgetowns.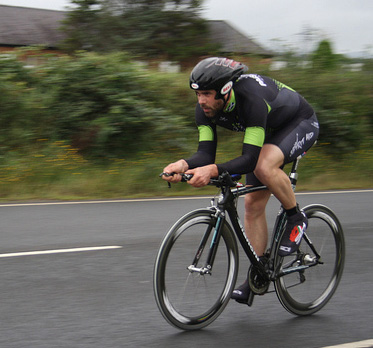 Ben Peacock 00:14:29
Ben holds the course record which currently stands at 14:17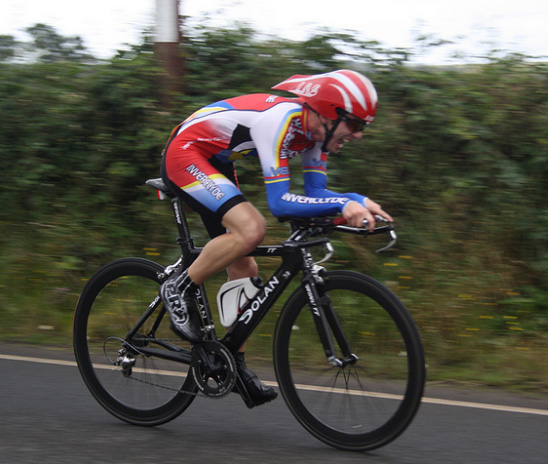 Scott Newman Inverclyde Velo 00:16:11
The Inverclydies lost their 8th man so were an incomplete team but that didnt stop Scott thrashing it out in the hurt zone to win "race face of the day" award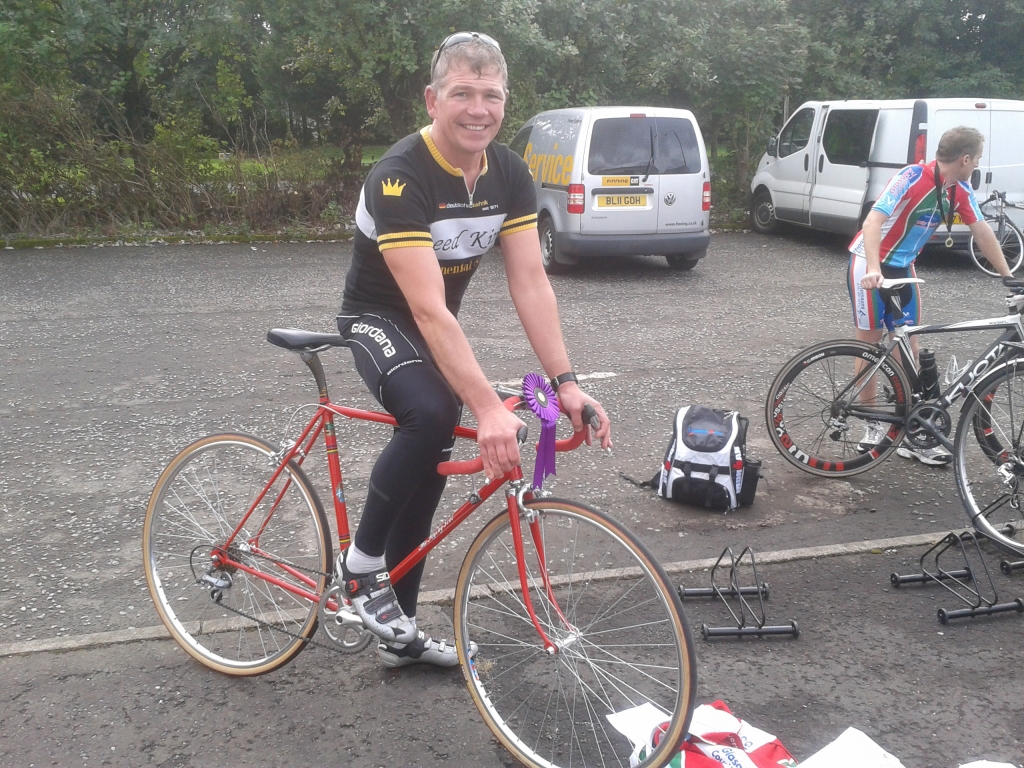 Jim Cusick 00:17:46
Isobel Smith sent her 'Bonnie Wee Scot' all the way doon fae Eberdeen and her toyboy Jim Cusick was her chosen champion! Jim twiddled that 42 x15 gear to 2nd fastest Flying Scot.

The Flying Scot Rally
1st Isobel Smith's 1951
2nd Richard Montague's 1960
3rd Ted Mullen's 1973
I must confess that the result may have been influenced by some heavy handed 'donations' going in from the host club. I am now on the lookout for someone who really knows their Flying Scots to properly judge and mark the bikes for a "Judges Best in Show" next year.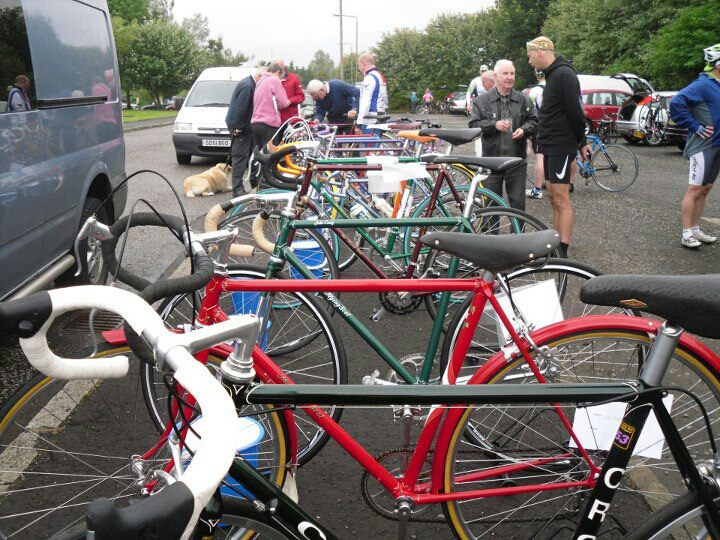 We had 33 Flying Scots on Display, the oldest was from 1933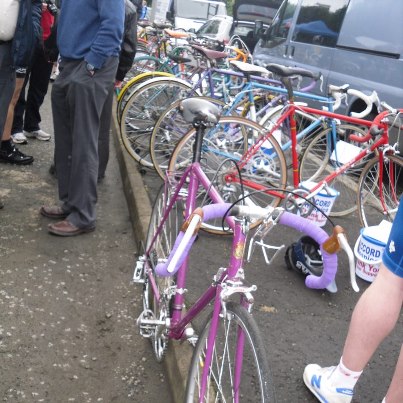 This is a nice purple one with 'South of France' bars and centre pull brakes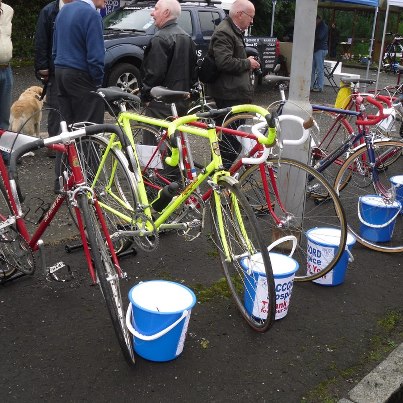 Charity buckets full to bursting with 'donations'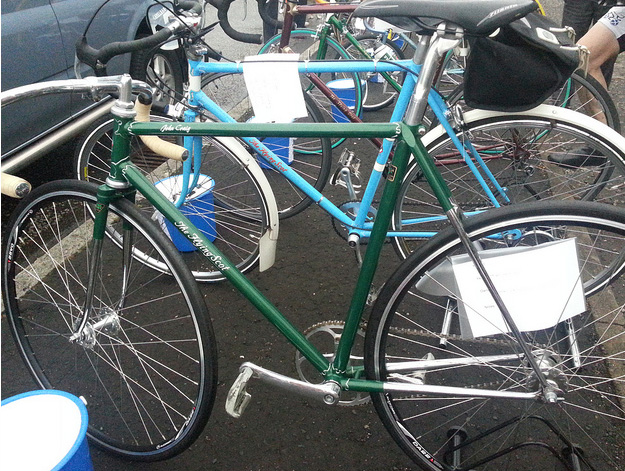 John Craig's track bike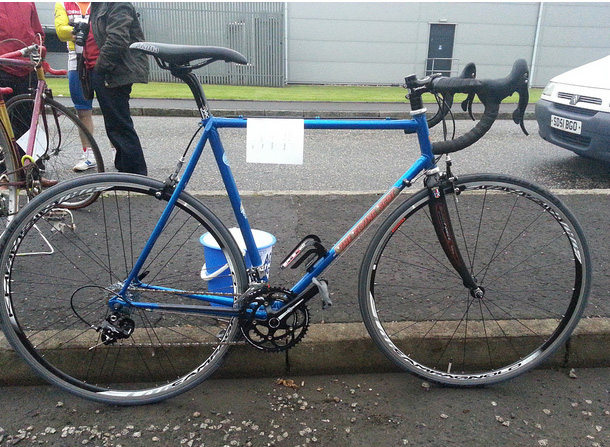 The crowd loved this beauty - a modern take on the classic design from the boys at Q-Bikes.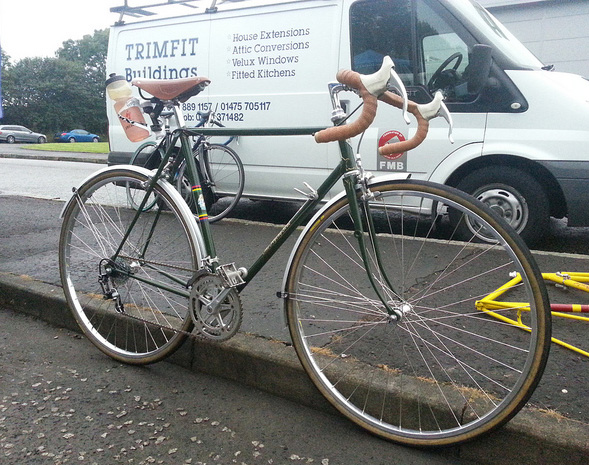 This one has been kept going for all those years and although it may not be the fastest thing on the road it's still being used daily- anyway- enough about Ians van.... what a lovely Flying Scot!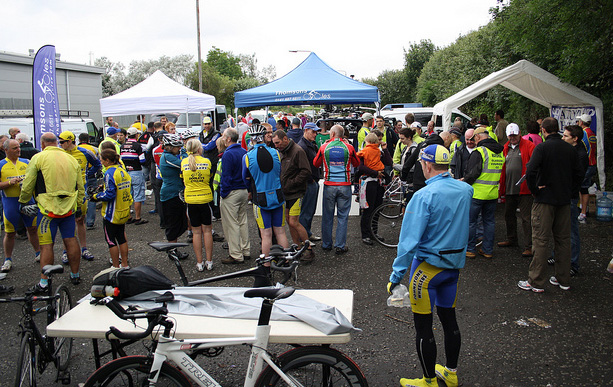 Georgetown Tented Village
Glasgow Couriers would like to thank all the clubs for coming out and helping us make the Georgetown Cup such an excellent day. Special thanks to the Event sponsor Thomsons Cycles for all the prizes and particular mention to Alan and Claire for all their help at the finish with the result board - Scottish Cycling and WOSCA . Janette Hazlet and Ivy CC for lending us the marquee- Paul Hornby for his excellent photographs. Accord Hospice for the marquee and collecting tubs- Bob Taylor for donating a bundle of prizes. Ian Loughran for the tea urn and all the catering staff - Ted Mullen who rode his first ever race at the age of 50 on a 40 year old Flying Scot and who also ran the Flying Scot Rally . Time Keepers Jack Robertson, Hugh Liddle and Alex Hunter who put in a 3 hour shift on the watches and donated all their expenses money to the charity. Laura Smith for lending us her laptop for the number crunching. Ian Sharp, the commisaire, who turned a blind eye to all the 'technical infringements' and allowed the novelty bikes and Flying Scot riders to take part. All the marshalls and pushers off who did a brilliant job - and last but not least all the riders who bust a gut for 7.2 miles over the legendary Georgetown . See you all next year!
FULL RESULT
Richie Provan Glasgow Couriers 0:16:34
Paul Friel Glasgow Couriers 0:16:37
John Craig Glasgow Couriers 0:16:45
Andrew MsGhee Glasgow Couriers 0:17:03
Jack Carlin Glasgow Couriers 0:17:13
Matt Evans Glasgow Couriers 0:17:15
John Fox Glasgow Couriers 0:17:42
Geoff Smith Glasgow Couriers 0:17:59
Lynsey Curran Glasgow Couriers 0:18:05
Garry Dunn Glasgow Couriers 0:18:10
Albert McLellan Glasgow Couriers 0:18:31
Ron Difelice Glasgow Couriers 0:18:36
Andy McKinlay Glasgow Couriers 0:18:40
Stephen Melaney Glasgow Couriers 0:18:43
Mark Davidson Glasgow Couriers 0:19:00
Lyndsey Carson Glasgow Couriers 0:19:42
Ian Loughran Glasgow Couriers 0:19:47
Stuart Paterson Glasgow Couriers 0:20:08
Alan Linstead Glasgow Couriers 0:20:27
Eddie Nelson Glasgow Couriers (Flying Scot) 0:20:36
John Baillie Glasgow Couriers 0:22:55
Scott Johnston Glasgow Couriers (Flying Scot)
Neil McKie Glasgow Couriers
David Millar Glasgow Couriers
Jim Cusick Glasgow Couriers (Flying Scot) 0:17:46
Glasgow Couriers CC 2:17:08
Bryan Bunyan 0:19:51
Paul Hornby Ivy CC 0:17:34
Jim Mackay Ivy CC 00:18:30
Andrew McCafferty Ivy CC 0:17:06
Paul McLafferty Ivy CC
Terence McMahon Ivy CC 0:00:00
Jack Savage Ivy CC 0:19:14
Edd Shackley Ivy CC 0:17:40
Andrew Stewart Ivy CC 0:18:29
Brian Jack Ivy CC 0:18:51
Willie Laithwaite Ivy CC 0:18:14
Lewis Stewart Glasgow Riderz 0:21:34
Ivy CC 2:25:38
Michael Dougall Glasgow Green Cycle Club 0:19:47
James Murray Glasgow Green Cycle Club 0:17:19
James Reilly Glasgow Green Cycle Club 0:21:22
Jason Smith Glasgow Green Cycle Club 0:18:19
David Sykes Glasgow Green Cycle Club 0:20:59
Stuart Wardle Glasgow Green Cycle Club 0:20:12
Stephen Young Glasgow Green Cycle Club 0:19:57
Vince Wells Glasgow Green Cycle Club 0:19:15
Stuart Patterson Glasgow Green Cycle Club 0:18:28
Johnathon Doherty Glasgow Green Cycle Club 0:19:12
Glasgow Green Cycle Club 2:32:29
Jason Barnes Glasgow Nightingale CC 0:16:04
David Dalziel Glasgow Nightingale CC 0:17:55
David Mackin Glasgow Nightingale CC 0:19:12
Simon McGee Glasgow Nightingale CC 0:19:08
Stephen Mooney Glasgow Nightingale CC 0:19:41
Alastair Pell Glasgow Nightingale CC 0:18:40
Roy Loughran Glasgow Nightingale CC 0:22:55
Keith Armstrong Glasgow Nightingale CC 0:18:38
Nightingale CC 2:29:09
Louise McDonald Johnstone Sheilas CC 0:21:08
Mary Ashworth Johnstone Sheilas CC 0:22:30
Sarah Bradford Johnstone Sheilas CC 0:20:36
Carol Cowan Johnstone Sheilas CC 0:22:07
Katrina Hamilton Johnstone Sheilas CC 0:18:24
Kay Tennant Johnstone Sheilas CC 0:23:11
Elaine Sandison Johnstone Sheilas CC 0:22:30
Alana Steele Johnstone Sheilas CC 0:21:47
Johnstone Sheilas 2:52:13
John Malcolm Johnstone Wheelers CC 0:20:19
Andy Jack Johnstone Wheelers CC 0:19:01
Greg Balden Johnstone Wheelers CC 0:17:45
Iain Couttie Johnstone Wheelers CC 0:18:03
Iain Cowden Johnstone Wheelers CC 0:17:19
Mike Ferguson Johnstone Wheelers CC 0:17:25
Ian McGinty Johnstone Wheelers CC 0:18:07
Ramsay Muirhead Johnstone Wheelers CC 0:16:26
Greig Sandison Johnstone Wheelers CC 0:21:36
David Thomson Johnstone Wheelers CC 0:17:04
Mark O'Neil Johnstone Wheelers CC 0:00:00
Philip Malcolm Johnstone Wheelers CC 0:16:42
Paul McDonald Johnstone Wheelers CC 0:18:25
Johnstone Wheelers CC 2:18:51
Gary Bratt Lomond Roads 0:17:02
Paul Gareze Lomond Roads 0:16:46
John Gibson Lomond Roads 0:18:36
Kenny Houston Lomond Roads 0:19:16
Scott McLelland Lomond Roads 0:18:15
Brandon Somerville Lomond Roads 0:17:23
Pearce Somerville Lomond Roads 0:19:20
Stuart Somerville Lomond Roads 0:18:24
Stuart Whitelaw Lomond Roads 0:17:47
Nick Tryon Lomond Roads 0:15:44
Lomond Roads 2:19:57
Harvey Baker V C Glasgow South 0:18:32
Eddie Brown V C Glasgow South 0:18:46
Jack Brown V C Glasgow South 0:00:00
Peter Cormack V C Glasgow South 0:19:10
William Craig V C Glasgow South 0:19:13
Anthony King V C Glasgow South 0:00:00
Fraser MacDougall V C Glasgow South 0:00:00
Steve McCluskie V C Glasgow South 0:16:11
Kenneth Morrice V C Glasgow South 0:17:30
Iain Ross V C Glasgow South 0:21:07
James Trusswell V C Glasgow South 0:18:23
Gary Wallace V C Glasgow South 0:18:17
Martin Wilson V C Glasgow South Flying Scot 0:17:14
VC Glasgow South 2:24:03
Jack Carlin Glasgow Couriers (Penny Farthing)
Gordon Stead Fullarton Wheelers 0:16:26
Gordon Graham Fullarton Wheelers 0:00:00
Ian Hackeny Fullarton Wheelers 0:17:22
David Kean Fullarton Wheelers 0:20:10
Brian Loy Fullarton Wheelers 0:15:54
Alan McCall Fullarton Wheelers 0:18:07
James Ryland Fullarton Wheelers 0:16:25
Chris Staples Fullarton Wheelers 0:15:58
Richard Sykes Fullarton Wheelers 0:18:44
Mark Wilson
Fullarton Wheelers 2:19:06
Mark Wilson paisley velo 0:19:19
Stevie Blom Paisley Velo 0:16:13
Brian Kelly Paisley Velo 0:23:44
Iain MacAuley Paisley Velo 0:20:18
Andrew MacLeod Paisley Velo 0:21:04
Steven Reid Paisley Velo 0:20:50
Gary Stevenson Paisley Velo 0:18:40
Scott Bradley Paisley Velo 0:18:17
James MacDonald Paisley Velo 0:17:18
David McCormack Paisley Velo 0:16:28
Ross Stirling Paisley Velo 0:21:25
John McPhee Paisley Velo 0:21:00
Ben Peacock Paisley Velo 0:14:29
Paisley Velo 2:32:10
Keira Johnston Glasgow Riderz 0:21:04
Calum Shackley Glasgow Riderz 0:20:01
RuairidhBrown Glasgow Riderz 0:21:21
Innes Johnston Glasgow Riderz 0:20:07
Ted Mullen Flying Scot 0:23:38
Simon Haslam Flying Scot 0:20:30
Colin Edgar Flying Scot 0:21:39
David King Flying Scot 0:00:00
GraemeBrown Flying Scot 0:19:34
Fergus Brown Flying Scot 0:21:39
Gerry McGarrity Inverclyde Velo 0:15:26
Scot Newman Inverclyde Velo 0:16:11
Adrian Rice Inverclyde Velo 0:17:42
Patricia Baird Inverclyde Velo 0:00:00
Tam May Inverclyde Velo 0:17:59
George McCarter Inverclyde Velo 0:17:07
Alan Holmes Inverclyde Velo 0:00:00
Robert Stevenson Inverclyde Velo 0:18:34
Derek Robertson Inverclyde Velo 0:00:00
Nial Inverclyde Velo 0:00:00
Inverclyde Velo
Catherine Logan Walkers Cycling Club 0:17:56
Russell Mowat Walkers Cycling Club 0:20:50
Scott Russell Walkers Cycling Club Flying Scot 0:19:26
Fiona Wallace Walkers Cycling Club 0:23:19
Paula Wilson Walkers Cycling Club 0:22:28
Fiona Walker Walkers Cycling Club 0:19:51
Peter Forsythe Walkers Cycling Club 0:00:00
TommyGribbon Walkers Cycling Club 0:17:53
Alexander Muirhead Walkers Cycling Club 00:19:21
Walkers CC 2:41:04
Martin Johnstone On the FAT bike 0:23:53
Harry Johnstone Dales Cycles Racing Team 0:17:08
Davie Gibson Dooleys RT Lotus 0:15:31
Jamie Johnstone Glasgow Riderz 0:20:36
Gordon Murdoch Team Cycle Lane 0:15:19
Graham Barron Glasgow Road Club 0:16:38
Scott McIntosh Glasgow Road Club 0:19:21
Tam Gordon Dooleys RT 0:15:01
Holly Orr Ivy CC 0:18:52
Glasgow Couriers CC 2:17:08
Johnstone Wheelers 2:18:51
Fullarton Wheelers 2:19:06
Lomond Roads 2:19:57
VC Glasgow South 2:24:03
Ivy CC 2:25:38
Nightingale CC 2:29:09
Paisley Velo 2:32:20
Glasgow Green CC 2:39:29
Walkers CC 2:41:04
Johnstone Sheilas 2:52:13
Inverclyde Velo Incomplete team