The Georgetown Cup
incorporating the
FLYING SCOT RALLY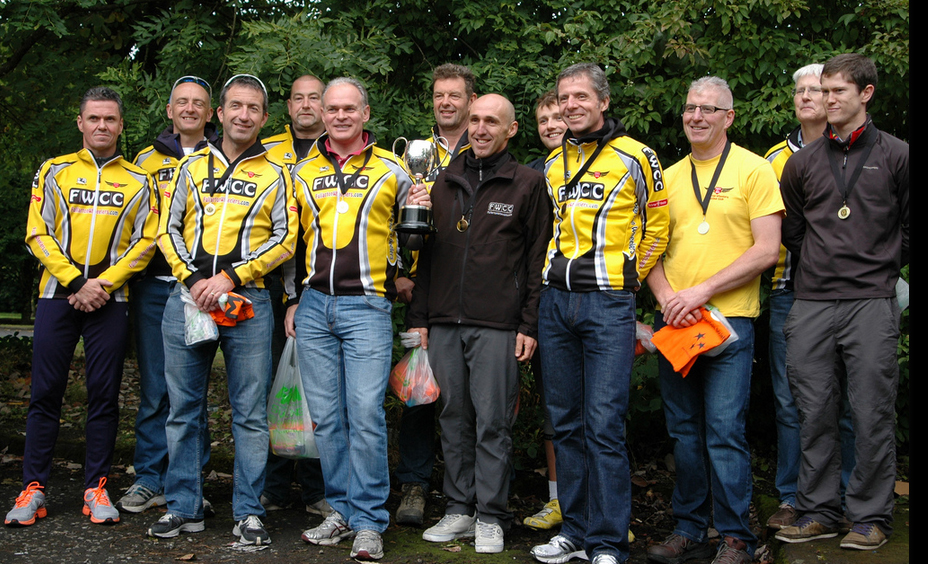 2013 Georgetown Cup Winners - Fullarton Wheelers
2013s Event £1600 for MS Scotland!

An individual time trial as normal but the combined times of the fastest 8 riders from each club count for the trophy.
It is an inter - club challenge between 'rank and file' members of each club.
Only riders who have not held a national championship medal in the last 3 years are eligible to count for the team
This makes it more competitive for ordinary club riders and a bit more interesting than the usual 'team prize'
dont forget to bring along those classic Flying Scots for the FLYING SCOT DISPLAY
Saturday 7tht September 2013- 9am
Georgetown Road – 7.2 miles
Strip is in the Inchinnan Industrial Estate car park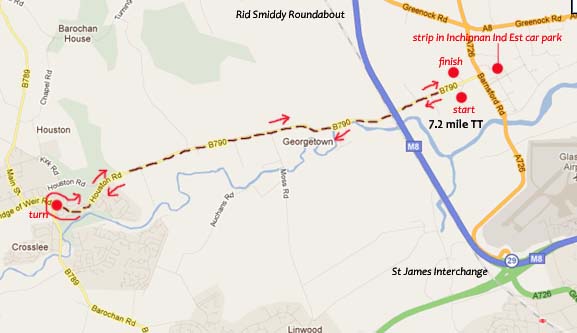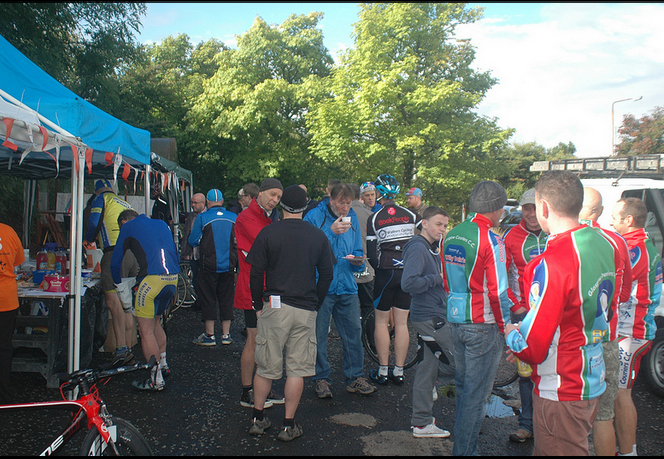 Everyone is welcome to enter whether or not you are eligible for the trophy.
The Cup is also engraved with the individual course record which is currently held by Ben Peacock and stands at 14min 35sec . Non– eligible riders are encouraged to come along and have a crack at the record.
There will be no cash prizes in this event- As well as the trophy there will be medals awarded to the fastest 3 teams
All event proceeds will be donated to Charity (MS Scotland)
Entry £8 - cheques to Glasgow Couriers CC
non- BC members £10
entries to:
Geoff Smith
34 Cyprus Ave
Elderslie
Johnstone
PA5 9NB
The Georgetown Cup 2013
Fullarton Wheelers 2.18.14 � Gold
Glasgow Couriers 2.18.17- Silver
Lomond Roads 2.20.56 - Bronze
Johnstone Wheelers 2.21.22
Walkers CC 2.27.09
Stirling Bike Club 2.28.33
Paisley Velo CC 2.32.33
St Christophers CC 2.46.20 � Georgetown Pie
Fastest Flying Scots
1. Ben Peacock 16:58
2. Martin Wilson 17.29
3. Fergus Brown 18.08
Fastest Tandem
John Fox / Gordon Watson 18:37
Fastest on the day
Iain Grant Dooleys RT 14:41
Ian Loughran Glasgow Couriers 20:02
Fraser Paterson Glasgow Couriers 20:30
Geoff Smith Glasgow Couriers 17:40
Kenny Malaney Glasgow Couriers 18:52
Andrew McGhee Glasgow Couriers 16.52
Paul Gallagher Glasgow Couriers DNS
Kevin Stevens Glasgow Couriers DNS
John Fox/ Gordon Watson (Flying Scot) Glasgow Couriers Tandem 18:37
Ronald Difelice Glasgow Couriers 18:29
Daniel Gallagher Glasgow Couriers 22.54
James Gilmour Glasgow Couriers 17.30
Frazer Grant Glasgow Couriers 18:32
Hyland Hamilton Glasgow Couriers 16:57
Scott Johnston (Flying Scot) Glasgow Couriers 22:08
Alan Linstead Glasgow Couriers 18:59
Stephen Malaney Glasgow Couriers 18:11
Albert McLellan Glasgow Couriers 17:31
Stuart Paterson Glasgow Couriers 17:18
Matt Evans Glasgow Couriers 17:19
Eddie Nelson (Flying Scot) Glasgow Couriers 20:28
William Stephen Glasgow Couriers 17:10
Jim Cusick Glasgow Couriers 15.26
Richie Provan Glasgow Couriers 16:56
Lynsey Curran Glasgow Couriers 17.22
Andrew Cattanach Glasgow Green Cycle Club DNS
Graham Cruickshanks Glasgow Green Cycle Club DNS
Martyn Dinsmor Glasgow Green Cycle Club 18.32
Marc Donnelly Glasgow Green Cycle Club DNS
Sam McIntosh Glasgow Green Cycle Club 19.09
Ross Dymock Glasgow Green Cycle Club DNS
Lee Gardner Glasgow Green Cycle Club 20:03
Iain Martin Glasgow Green Cycle Club DNS
James Reilly Glasgow Green Cycle Club 20.03
Jason Smith Glasgow Green Cycle Club DNS
Colin Tennent Glasgow Green Cycle Club 18:59
Stuart Wardle Glasgow Green Cycle Club DNS
Richard Warnock Glasgow Green Cycle Club 18.59
Andrew Dobinson Glasgow Green Cycle Club DNS
Robert Young Glasgow Green Cycle Club DNS
Stephen Young Glasgow Green Cycle Club DNS
Mike Adair Fusion Tri Club 18.43
Fergus Brown (Flying Scot) On his 1967 Flying Scot 18.08
Iain Couttie Johnstone Wheelers CC 17.26
Iain Cowden Johnstone Wheelers CC 17.31
Mike Ferguson Johnstone Wheelers CC 17:47
Andrew Gumley Johnstone Wheelers CC 17:59
Alan Holmes Johnstone Wheelers CC 15:40
William MacDonald Johnstone Wheelers CC 17:36
Ian McGinty Johnstone Wheelers CC 18:43
Greig Sandison Johnstone Wheelers CC 20:32
Elaine Sandison Johnstone Wheelers CC 22:57
Alan Thomson Johnstone Wheelers CC 19:29
David Thomson Johnstone Wheelers CC 18:40
Al Yuille Johnstone Wheelers CC 19:46
David Cowan Johnstone Wheelers CC 22:04
Carol Cowan Johnstone Wheelers CC 22:15
Gary Bratt Lomond Roads CC 16:40
William Britton Lomond Roads CC 18:44
Brian Cameron Lomond Roads CC 17:54
Martin Edgar Lomond Roads CC 18:50
Stuart Donaghy Lomond Roads CC 16:20
Paul Gareze Lomond Roads CC 17:18
Allan Ross Lomond Roads CC 18:40
Stuart Whitelaw Lomond Roads CC 16:30
Scott Bradley Paisley Velo Cycling Club 17:44
Gerard Dodds Paisley Velo Cycling Club 17:58
Julie Fitzpatrick Paisley Velo Cycling Club 19:57
Iain MacAulay Paisley Velo Cycling Club 18:05
Derek McBurnie Paisley Velo Cycling Club 20:36
Jonathan McKendry Paisley Velo Cycling Club 20:06
Ronnie McKenna Paisley Velo Cycling Club 19:21
Andrew McLeod Paisley Velo Cycling Club 20:31
Stuart Parker Paisley Velo Cycling Club 20:49
Iain Ross Paisley Velo Cycling Club 22:12
Ross Stirling Paisley Velo Cycling Club 21:06
Aurelien Thouard Paisley Velo Cycling Club 20:06
Mark Wilson Paisley Velo Cycling Club 19:16
Ross Toole Paisley Velo Cycling Club 16:24
Stephen Reid Paisley Velo Cycling Club DNS
Scott Craig Paisley Velo Cycling Club DNS
David McCormack Paisley Velo Race Team 16:31
Jason Smith GGCC DNS
Peter Beukelman Fullarton Wheelers DNS
Michael Allen Fullarton Wheelers 19:02
Richard Sykes Fullarton Wheelers 18:58
Hugh Murray Fullarton Wheelers 19:07
Neil Colquhoun Fullarton Wheelers 19:09
Alan McMillan Fullarton Wheelers 18:13
Alan McCall Fullarton Wheelers 18:15
Stephen Cassidy Fullarton Wheelers 17:48
Alastair McFarlane Fullarton Wheelers 17:15
Gordon Graham Fullarton Wheelers 17:30-
Michael Curran Fullarton Wheelers DNS
Jim Ryland Fullarton Wheelers 16:42
Brian Loye Fullarton Wheelers 16:16
Gordon Stead Fullarton Wheelers 16:15
Gordon McClarnon Fullarton Wheelers 19:06
Steve Donaldson Fullarton Wheelers 27.44
Mand Cullie St Christopher's CC 21:47
Alan Cullie St Christopher's CC 20:47
John Donnell St Christopher's CC 22:42
James Mcaneny (Flying Scot) St Christopher's CC 21:53
Alan McAulay St Christopher's CC 19:03
Colin Meikle St Christopher's CC 17:53
David Turner St Christopher's CC 22:20
keith Stoddart St Christopher's CC 19:55
Tony Bancewicz Stirling Bike Club 18:09
Colin Chisholm Stirling Bike Club 19:29
Derek Ditty Stirling Bike Club 18:43
Stuart Gordon Stirling Bike Club 19:49
Archie Johnstone Stirling Bike Club 17:59
David Jorgensen Stirling Bike Club 18:23
Nikki Jorgensen Stirling Bike Club 20:44
Martin Lees Stirling Bike Club 20:14
David Lindsay Stirling Bike Club 17:01
Graeme Naysmith Stirling Bike Club 19:38
Norrie Petrie Stirling Bike Club 19:11
Jim Prentice Stirling Bike Club 19:38
Ian Anderson Walkers Cycling Club DNS
Stephen Fraser Walkers Cycling Club 20:08
Bryce Gillan Walkers Cycling Club 17:31
James Goldie Walkers Cycling Club 19:31
Ian Anderson Walkers Cycling Club 17:14
Catherine Logan (Flying Scot) Walkers Cycling Club 19:25
Russell Mowat (Flying Scot) Walkers Cycling Club 21:26
Alexander Muir Walkers Cycling Club 18:35
Scott Russell Walkers Cycling Club 19:42
Lorna Sloan Walkers Cycling Club 20:19
Fiona Wallace Walkers Cycling Club DNS
Paula Wilson Walkers Cycling Club 21:43
Kenneth Christie Glasgow Ivy CC 17:40
Paul Hornby Glasgow Ivy CC 17:54
Paul McLafferty Glasgow Ivy CC 16:02
Andrew Ramsey Glasgow Ivy CC 17:32
Johnny Thow Glasgow Ivy CC 18:45
Terrence McMahon Glasgow Ivy CC 17:39
Brian Jack Glasgow Ivy CC DNS
Isobel Fletcher Glasgow Whls 20.09
Kallen Kerr Glasgow Whls
Allan Maclean Glasgow Whls DNF
William Munro (Flying Scot )Glasgow Whls 21:40
Eddie Brown VC Glasgow South DNS
William Craig VC Glasgow South 20:40
Steve Macluskie VC Glasgow South DNS
Kenneth Morrice VC Glasgow South 17:30
Martin Wilson (Flying Scot) VC Glasgow South 17:29
Mark Neilson VC Glasgow South 20:02
Scott Newman Inverclyde Velo 16:07
Tom May Inverclyde Velo 18:19
Robert Stevenson Inverclyde Velo 18:51
Alan Holms Inverclyde Velo 16:39
George McCarter (Flying Scot) Inverclyde Velo 19:12
Willie and Josh Stephen Glasgow Couriers Tandem 19:17
Euan Lindsay www.Hardie-Bikes.com DNS
Paul Beynon Unattached 19:04
Ruairidh Brown Glasgow Riderz DNS
Jason Barnes Glasgow Riderz 15:59
Ricky Sutherland Unattached 16:29
Simon Haslam (Flying Scot) Flying Scot 31.02
Tony Nugent East Kilbride Road Club 29.06
Graeme Brown (Flying Scot) Glasgow Cycle Team DNS
John Johnstone Icarus Racing 19:14
Andrew Prenelle Icarus Racing 16:29
Colin Edgar (Flying Scot) Flying Scot 21.50
Scott McIntosh Glasgow Road Club 19,10
Brandon Somerville Lomond Roads 16,20
Iain Grant www.Dooleys-Cycles.co.uk 14,41
David McLellan www.Dooleys-Cycles.co.uk 16.12
Nick Tryon www.Dooleys-Cycles.co.uk 16.02
Roger Campbell-Crawford Team Thomsons Cycles 16.57
Lyndsey Carson Team Thomsons Cycles 19.48
John Craig Team Thomsons Cycles 16.34
Greg Kerr Team Thomsons Cycles 17.06
Keith Laird Team Thomsons Cycles 16.49
Jamie Johnston Team Thomsons Cycles 19.17
Derek Johnston Team Thomsons Cycles 19.34
Douglas Burns Nightingale CC 19.00
Ben Peacock (Flying Scot) Paisley Velo Race Team 16.58