Courtesy of the DAVID BELL MEMORIAL ROAD RACE Website
CJ
Your first Davie Bell win was in 1982 (the same year I was born), yet you have remained active and successful to the present day. What is the secret to your motivation?
DM
A few people have asked me that over the years, but there`s no secret. I`ve always enjoyed cycling since I got my first proper bike at around fifteen, especially the competitive side of it. I suspect O.C.D. might be a factor as well.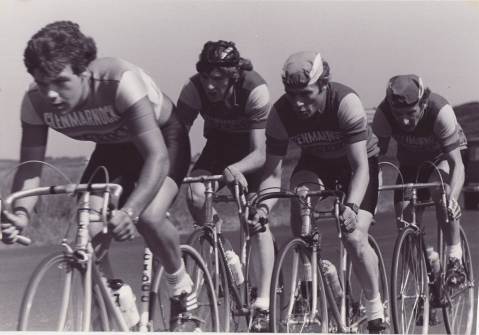 Billy Cummings, Davie Gibson, Dave Millar, Jim Ferrier
- a formidable Glenmarnock TTT4 team!
CJ
Can you tell us about the first win, when you were with Glenmarnock Wheelers?
DM
I can remember that occasion well for two reasons, even though it was thirty years ago. Firstly it was my first win in the event and secondly my rear mech.cable snapped after the Tairlaw descent. Dave Whitehall and myself had gone clear on the Nick, and just prior to my cable snapping Dave punctured and was caught by the chasers.
It was a hard struggle in the big gear, with quite a few nasty hills to come over the last 25 miles or so, until I reached the Heads of Ayr, when it was more or less downhill to the finish at the Old Racecourse.
CJ
What did it mean to win the Davie Bell?
DM
It was regarded as one of, if not the hardest race on the calendar and gave me a great sense of achievement.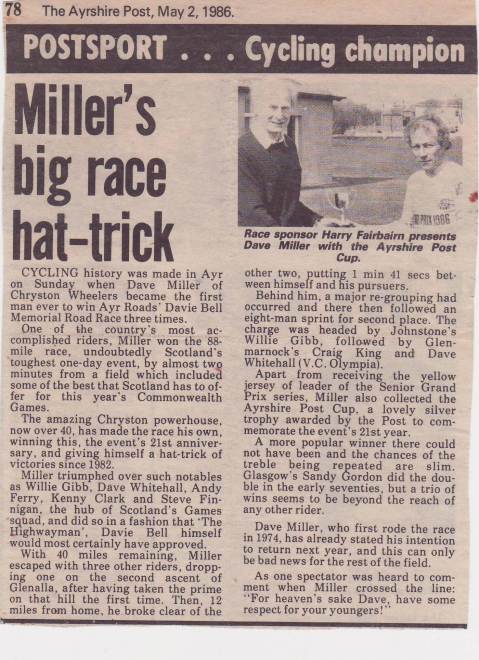 The Ayrshire Post
CJ
You would go on to set the record for the number of wins in the race (four, along with Jason MacIntyre). Were you conscious of this at the time?
DM
I`m fairly sure that when I won my third no one else had won three, so I was aware of the record even before my 4th win.
CJ
Your last win in the Davie Bell came in 1989 with Chryston Wheelers – how did this differ from the first?
DM
Winning for a 4th time was on a par with my 1st, 7 years earlier,mainly due to me approaching 45 at the time.
CJ
Who were the riders you feared and marked on your way to success?
DM
I feared all the sprinters as I couldn`t sprint for toffee. Every single road race I`ve won, I`ve always had to win on my own, apart from one. It was the Sam Robinson in 1996, when I was away with another rider. He let me do most of the work and then sat on for the last two or three miles. He then jumped me on the last hill at Strathblane with about a half mile to go. I was so angry there was no way I was going to let him win, so chased him down and came round him before the line.
As far as marking anyone was concerned, I had to figure out when to escape them, not follow them.
CJ
Having seen the race evolve, what do you make of the new 2012 route?
DM
It looks a good deal harder than the original version. With the extra mileage and off road sections the course should provide a worthy winner. On a lighter note, I noticed on the course description that race times were given based on average speeds of 22,26 and 30mph. I fear you would need a motorbike to average 30mph round that course!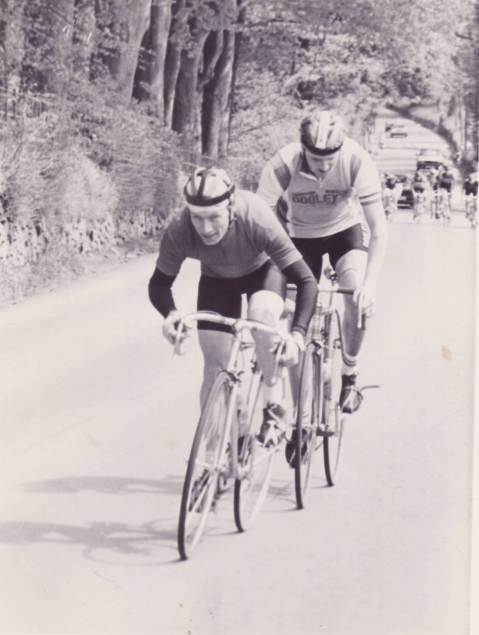 The Cathkin Braes in the Drummond Trophy
CJ
And having witnessed three decades of Scottish cycle sport are you optimistic for the future?
I`m rather out the loop as far as road racing is concerned these days, however there seems to have been a resurgence in the last few years with bigger fields ( when I was younger 40 was the maximum field size) and some new events, with challenging courses. The young up and coming riders seem to be looked after much better nowadays, with a much better coaching structure and financial assistance available from the Braveheart fund. In my day you were more or less on your own.
CJ
You currently race for Glasgow Couriers who we hope will enter a team – how do you think they will fare?
DM
Jamie Kennedy is probably the Couriers best hope for a result. He`s been getting better every year and could do very well on the new course.
CJ
Can you remember the bike you rode to your first victory?
DM
I was riding an Alan aluminium bike with the state of the art technology of the day,ie.down tube gear levers and toeclips and straps (laughs)
CJ
What advice do you have for the riders in this years' Davie Bell?
DM
The extra mileage over such a hard course will catch a lot out,and the two ascents of Byne hill near the end will have a major impact on the result. Anyone who wants to do well will need to be well prepared.
CJ
Thank you to Davie for taking time out to share his recollections with us, and for sharing images from his personal archive! Of the current crop of riders, Evan Oliphant sits with two wins, so will need another two to equal David and Jason.
Interview by Chris Johnson- photgraphs courtesy of David Millar.
reproduced with thanks to the David Bell Memorial Road Race